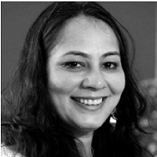 Dr. Vandana Sehgal
Dean and Principal (FOAP, AKTU)
Official Mail Id:
dean.foa@aktu.ac.in

(CV)
Education
| Degree | Institution | Year of Completion |
| --- | --- | --- |
| B. Arch | CCA, Chandigarh | 1991 |
| M.Arch: | IIT Roorkee | 1993 |
| PhD: | SPA, Delhi | 2012 |
Experience
25 years 11 months
Introduction:
Dr. Vandana Sehgal is an architect, an artist and an academic. She has done her PhD. in architecture from School of Planning and Architecture, New Delhi and is a Professor in Faculty of Architecture, U.P. Technical University, Lucknow.
Areas of Specialization:
As an academic, her area of research is architecture theory. Her thesis was entitled Infinite in Architecture. She writes regularly in journals on theoretical as well as practical design issues.
As an artist, she has done solo shows like 'Between Spaces' 'Ramayana' 'Lucknow- Ek-Nazar' and has participated in group shows with various artists all over India. She has painted Illustrations for many celebrated books.
As an architect, she is involved with projects like hotels, archives gallery, memorials, houses, interiors and some re-development proposals.