SPECIAL LECTURES
Online Teaching in Architecture: A Paradigm Shift
Under the patronage of Prof.(Dr). Vandana Sehgal, Principal and Dean; Faculty of Architecture and Planning, Dr. A.P.J. Abdul Kalam Technical University, Lucknow, in joint collaboration with Faculty of Architecture and Planning, Integral University, Lucknow organized an online panel discussion on " Online Teaching in Architecture: A Paradigm Shift". The experts invited in the panel discussion were: Prof.(Dr) Somenath Sen; (Faculty, Department of Architecture and Regional Planning; IIT Kharagpur) ; Prof. Ranjan Chattopadhyay; (Professor Amity University, Kolkata & Ex-Director General, Kolkata Metropolitan Development Authority); and Prof. (Dr) Joydeep Dutta (Professor Mumbai University; Ex- AVP Reliance Group of Industries, Ex- Senior Architect Taj Group, Ex- Faculty, IIT Kharagpur, Visiting Faculty Sir JJ College of Architecture, Mumbai). The panel discussion was moderated by Prof.(Dr). Indrani Chakraborty; HoD & Dean Faculty of Architecture and Planning, Integral University and Dr. Subhrajit Banerjee; Associate Professor, Faculty of Architecture and Planning and Associate Dean (PGSR) of Dr. A.P.J. Abdul Kalam Technical University. Key issues addressed and discussed: The discussion was with the focus on Academia, Industry and the interface of the two, with probable simulations. The issues discussed were as follows: • Is the present wave of online teaching temporary to fight the pandemic situation and should we shift to the old system post Pandemic? Or there is a real need of Augmentation in the old Teaching pedagogy? • Can this exercise of Online teaching which is presently being followed by all the Architecture schools for existing undergraduate and post graduate courses be seen as an opportunity for capacity building of students, teachers and administrators? • How can we appraise the present situation in the perspective of a teacher? What according to the educators are the pros and cons of this ongoing system? Shall we lose good teachers along with their convincing and productive pedagogy? • Reaction of the student community of different levels with respect to their acceptance of the new pedagogy, the new skills are developing in the process and the probable outcome as professionals. • Suggestive changes and amendments in Norms, Regulations framed by the different Affiliating and Accrediting and Professional bodies and accordance with National Education Policy 2019.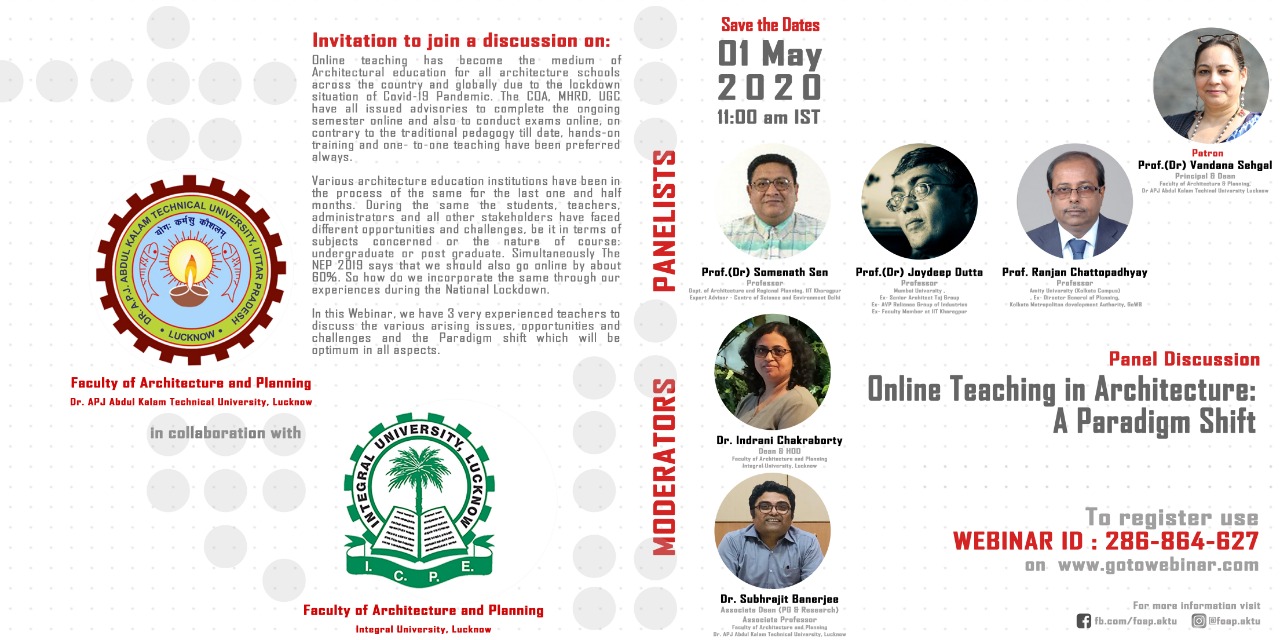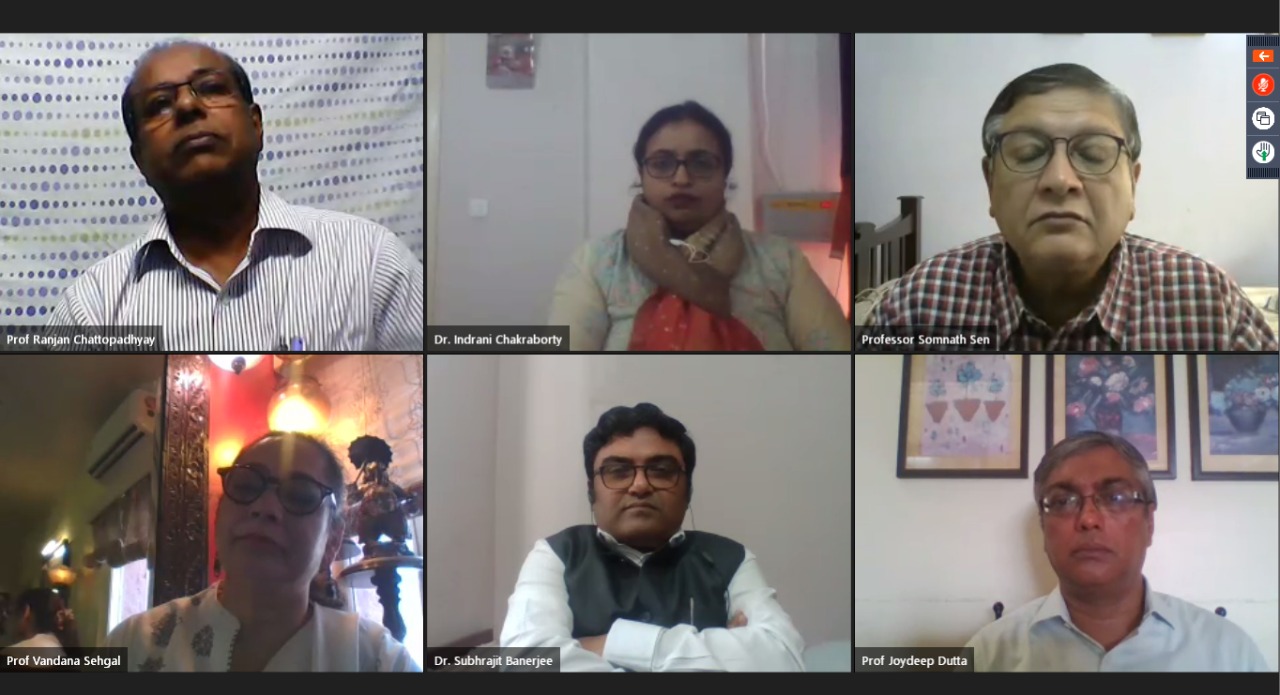 Live Webinar on Good Practices for Conservation of Monuments and Sites by Ar. Nishant Upadhyay
About the webinar: In order to respond to the need for design interventions in monuments and sites; conservation and design professionals need a brief introduction to the charters of ICOMOS and UNESCO guidelines for conservation of built heritage in urban or rural scenarios. The webinar will introduce these international guidelines along with sharing interesting case studies across the globe, where designers have done interventions to built heritage and surroundings to respond to the contemporary needs and society. About the speaker: Ar. Nishant Upadhyay, an alumnus of the Faculty of Architecture, AKTU, Lucknow, has been trained as a conservation architect in RLICC, KULeuven, Belgium.He is the founder architect of DHARATAL a design studio with a specialization in vernacular architecture and historical landscapes. At present he works as heritage consultant for state governments of India and UNESCO Dhaka Office. He is a PhD candidate at KU Leuven with a research focus on the role of historical landscape conservation in sustainable regional development, with the case of the Royal Gardens of Rajnagar in Bundelkhand, India. He is also an active ICOMOS India member and central zone representative of EPWG, COMOS India.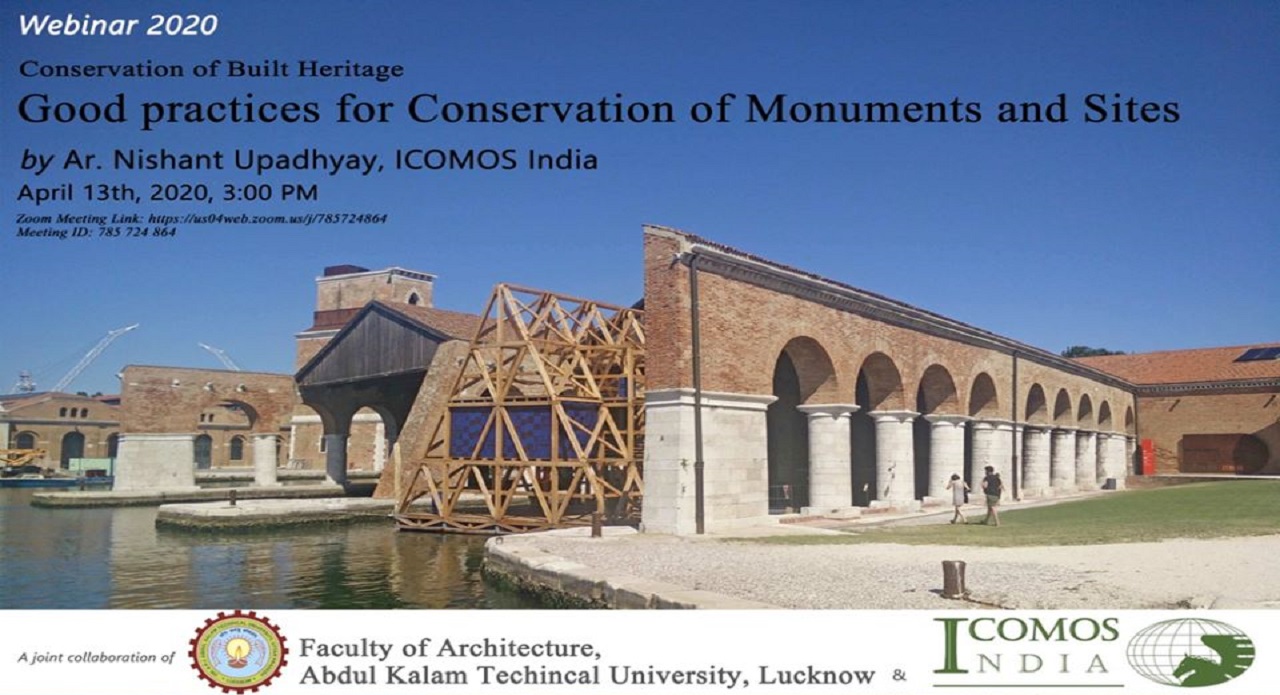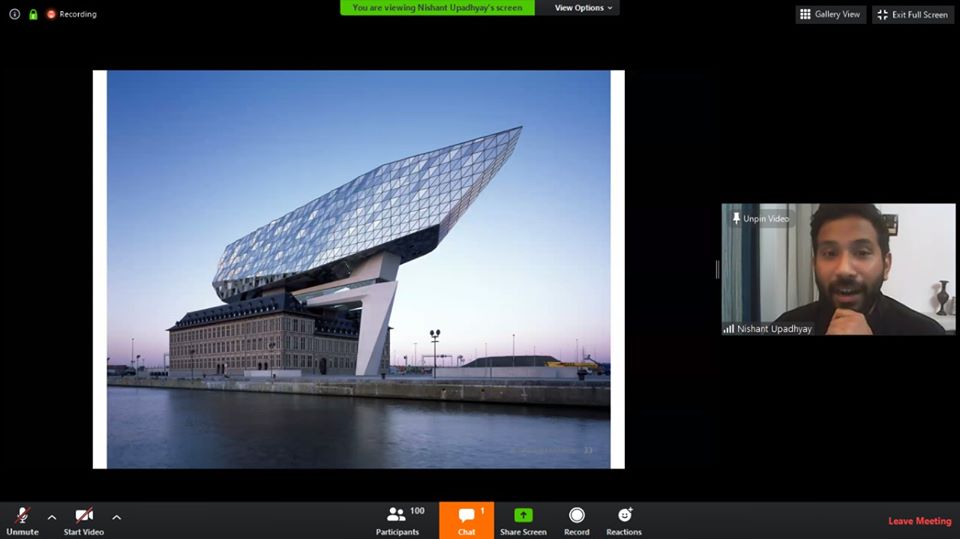 Lecture by Dr. Shaleen Singhal on Literature Review in Research
Dr Shaleen Singhal visited the campus on 9th March for a special lecture on Literature review in Research and methodology for review .Dr. Singhal is a Professor at TERI School of Advanced Studies with 21 years of research and academic experience working on sustainable urban development issues in India and UK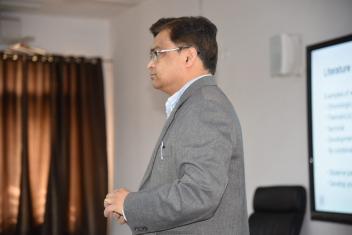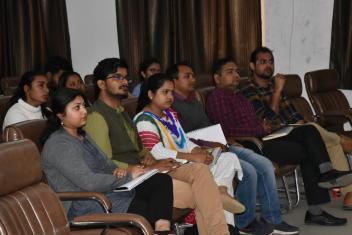 Lecture by Rosie Llewellyn Jones about Lord Claude Martin and Chhatarmanzil
A lecture on Lord Claude Martin and Chhatarmanzil was delivered by Dr. Rosie Llewellyn Jones. Dr. Jones is a well-known British scholar with an expertise on Lucknow and has authored several books on the city including "Last King in India, Wajid Ali Shah; Lucknow City of Illusions; Engaging Scoundrels;, and The Great Uprising In India, 1857.