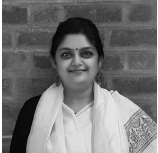 DR. RITU GULATI
Associate Professor
Training and Placement Coordinator,Warden Girls Hostel
Official Mail.Id:
gulati.ritu@foaaktu.ac.in
Education
| Degree | Institution | Year of Completion |
| --- | --- | --- |
| B. Arch | GCA, Lucknow | 1997 |
| M.Arch | BBDU Lucknow | |
| PhD: | CEPT University Ahmedabad | 2017 |
Areas of Specialisation:
Energy Efficiency & Sustainable Architecture; Traditional & Vernacular Architecture.
Administrative duties:
Warden Girls Hostel
Co-ordinator: M.Arch; Masters in Environment Design; Masters of Interior Design
PhD Co-ordinator
Co-ordinator: Research & Development Cell; Student Council; Campus Upkeep, Cultural & Sports; Publication & Q.I.P. Social Outreach; B.Arch & M.Arch Thesis & Dissertation.
Co-ordinator: Sustainable Environment Cell
Incharge: Climatology Lab, Photography lab & environmental Lab.
Publications:
Author of international & National papers in eminent conferences & journals like in PLEA international(Passive low energy Architecture), IIA Journals, Journal of Landscape Architecture, Journal of Architecture, edited monograph on Benares Ghats.
Eminent panellist:
for forums at Economic Times, CSE (centre for Science & Environment), Inside Outside, Better Interiors beside others.
Awards:
Recipient of awards by A+D; Birla YuvaRatna SAARC Nations; A3 Foundation.
Moderated:
National & International conferences: Capital Visions; Institute of Interior Designers; Eco III.
Editorial Board:
member UPAA, IIA, IJTRA.